Even though it has decreased, it turns out that the danger of the Corona virus pandemic (COVID-19) still exists and needs to be watched out for. Therefore, offline activities or events remain a special concern and should be avoided as much as possible. Is there a place for cosplayers and content creators to share their creative ideas safely and still be enjoyed by fans and the rest of the cosplay community?
Reflecting on the success of the Cosplay Awards and SpookFest 2021, which have the concept of an online competition with dozens of cosplayers participating, SHOWTIME as an alternative platform for the cosplay and anime community to share their works and channel for ideas safely deserves to be the main choice for now.
Now, to celebrate Chinese New Year and welcome Valentine's Day, Showtime is preparing to hold an online cosplay competition with the title SHOWTIME Lunar Festival 2022. This event will be even more lively with sponsorship support from Sushiroll and Indonesia CosuGram (ICG), as well as media partners with KAORI Nusantara . What is the event concept?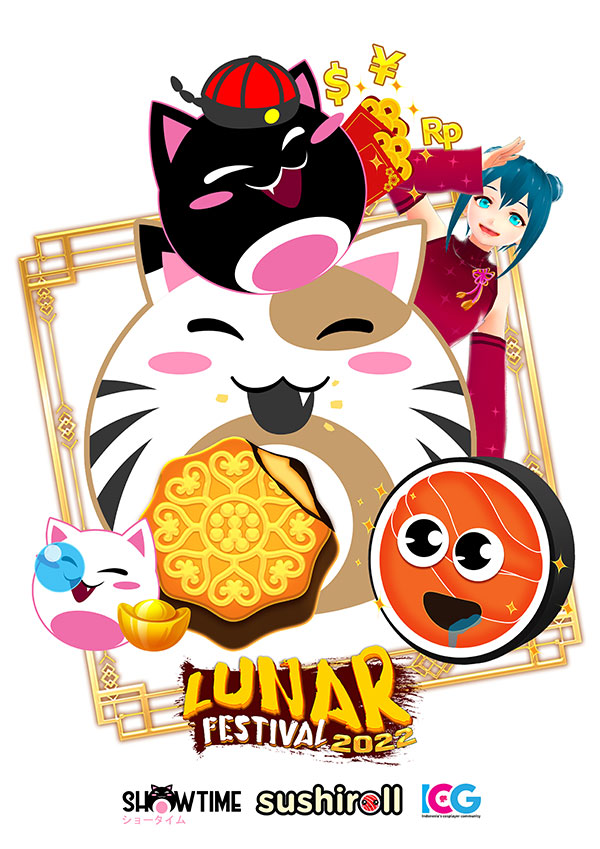 SHOWTIME LUNAR FESTIVAL 2022
The SHOWTIME Lunar Festival 2022 event will be held for a month in February with the following themes:
* Lunar New Year (Main Theme)
* Valentine's Day (Extra Theme)
* Couple Cosplay (Extra Theme)
The concept itself is in the form of a cosplay video competition where all content creators will submit their video works according to the desired theme; with the content of things in RED color, nuances of LOVE, and / or using LUNAR NEW YEAR ornaments.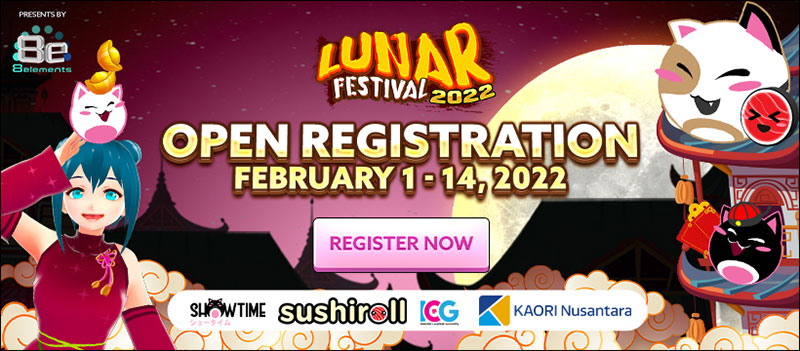 LUNAR FESTIVAL OPENING REGISTRATION
Later, each Showtime user can support their favorite cosplayer by pressing the LOVE button or icon on the profile of their choice. All users can give VOTE / LOVE for FREE every day, with the option to give more Votes through paid options.
THE PRIZES
1st Winner - IDR1500000
2nd Winner - IDR 700000
3rd Winner - IDR 500000
ICG Favorite - IDR 300000
Sushiroll Fav - IDR 800000
(Giveaway + Merchandises)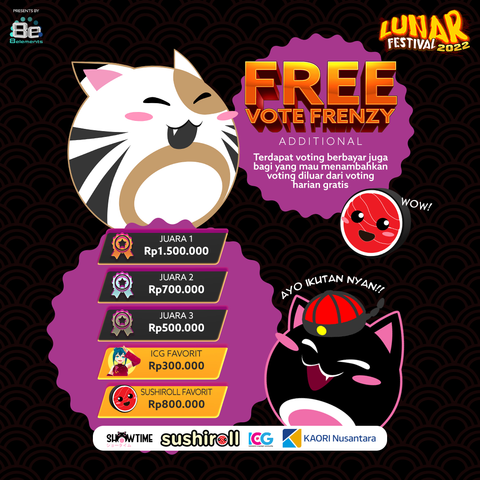 The winner will be determined based on the amount of LOVE collected by each content creator. At the end of the event period, all winners will be announced via LIVE Streaming on March 1, 2022, hosted by Aria Roselait (as ICG Jury Representative) & Zee Liu (MC).
DARE TO JOIN? BE A CONTENT CREATOR IN SHOWTIME AND WIN BIG!
***
About Showtime
SHOWTIME is a one-stop entertainment platform and newest business unit of PT. 8 Elements as unifying forum for the cosplay and anime communities to share new and exciting creative contents with their fans.
In the SHOWTIME online media portal, visitors participate in various activities about anime and cosplay, along with other interesting features such as artist profiles, video interviews, rankings, contest voting, and much more!
Showtime opens opportunities for collaboration with various parties to hold events and programs in related fields. The latest project is an online cosplay competition with the title SHOWTIME Cosplay Awards 2021!


About 8elements
8elements is a highly experienced digital content provider and mobile game publisher in the Asia Pacific region, specifically with regards to localized products and services for gamers in Southeast Asia.
As a trusted regional company, 8elements offers high-quality games as well as applications and digital content via the Play / App Store through collaboration with mobile network operators, news portals, online sites, and game accessories companies. 8elements has collaborated with Disney, Animonsta BoBoiBoy, Little Giantz Nussa, and Telkomsel DuniaGames; as well as other well-known products and brands.
Founded in 2003 by Joerg Tente, 8elements is a privately held company based in Hong Kong and Jakarta. Armed with the experience and dedication of the team for more than 10 years, PT. 8 Elements in Jakarta is now designated as the company's operational center.
;