Dahulu banget, mungkin beberapa dari kalian pernah merasakannya, pilihan genre game untuk dimainkan cuma itu-itu saja, yaitu bergaya petualangan ala Final Fantasy dan kawan-kawan (RPG). Kemudian berkembang sistem free-to-play yang akhirnya memunculkan istilah MMORPG dan memungkinkan banyak gamer sekaligus jalani quest untuk eksplorasi hingga konten endgame. Kangen ga sih momen-momen bahagia seperti main bareng teman di Ragnarok Online?
Kini, di era teknologi smartphone, pilihannya makin bervariasi dengan ragam mobile games yang mencuatkan banyak genre. Namun uniknya belum banyak penggemar MMORPG yang terpuaskan dari deretan title mobile games tersebut. Apa sih yang mereka cari dalam suatu mobile MMORPG, khususnya para hardcore gamers?
Nah, memang sudah beda zamannya kali ya, dulu seorang gamer bakal rela habiskan waktu berjam-jam bahkan seharian di warnet sambil kerjakan quest dan menunggu Boss Monster untuk spawn lagi. Sekarang, waktu begitu berharga untuk dilewatkan sehingga harus mencari game yang bisa memberi opsi lebih fleksibel dalam bermain. Makanya, platform mobile menjadi pilihan mutlak bagi gamer-gamer hardcore untuk luangkan waktu mereka.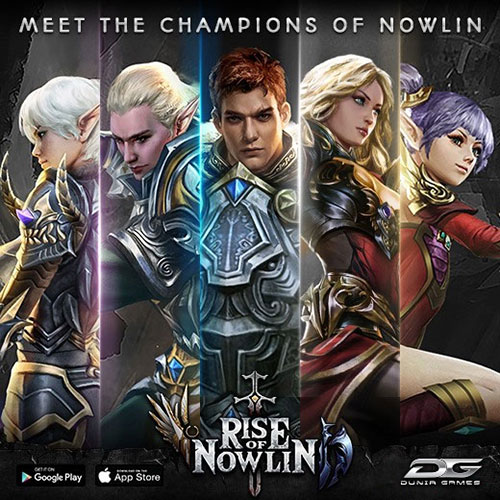 Sayangnya, deretan judul mobile MMORPG yang tersedia sekarang masih belum mampu seutuhnya menuangkan fitur-fitur memadai agar mereka tidak bosan setelah beberapa saat bermain. Apalagi banyak di antara game tersebut gagal fokus dalam menyediakan perangkat PvP yang benar-benar menantang. Di sinilah momen kemunculan Open World MMORPG Rise of Nowlin sangat tepat sebagai pilihan mobile game dengan petualangan tanpa henti paling menantang buat kamu!
Bukan asal ngomong ya, beberapa fitur di bawah ini yang membuat kamu wajib untuk memainkannya bila kamu ngakunya seorang gamer hardcore sejati!
1.

Anti-Bosan!
Saking banyaknya aktivitas yang bisa kamu lakukan setiap harinya di Rise of Nowlin, semua pemain bisa menikmati petualangan tanpa batas dan anti-bosan. Ada fitur ADVENTURE dalam game ini yang memiliki 4 menu tambahan berisi Events, Activities, Dungeons, dan Boss.
Dari masing-masing menu tersebut masih terdapat ragam kegiatan dengan obyektif serta rewards berbeda. Misalnya lagi butuh EXP banyak untuk level lebih cepat, kalian bisa memilih Nowlin Adventures, Bounty & Camp Task, Hero Trial, dan Nowlin Trial. Tapi kalau lebih suka yang rusuh-rusuh mending fokus ke jam aktivitas Escort, Arena, Light versus Dark, Subversion, dan Camp War. Bahkan, buat yang suka adu kecerdasan dengan pemain lain, tinggal ikutan Daily / World Quiz setiap hari Senin, Kamis, dan Minggu.
Bagi yang ingin punya equip unyu-unyu bisa coba taklukkan deretan Boss Monster di seluruh penjuru map, atau bareng teman lakukan Dungeon-dungeon unik dengan metode khusus untuk mengalahkannya. Itu semua ditambah dari ragam rewards yang tersedia via menu Wellfare berdasarkan tingkat aktifnya kamu!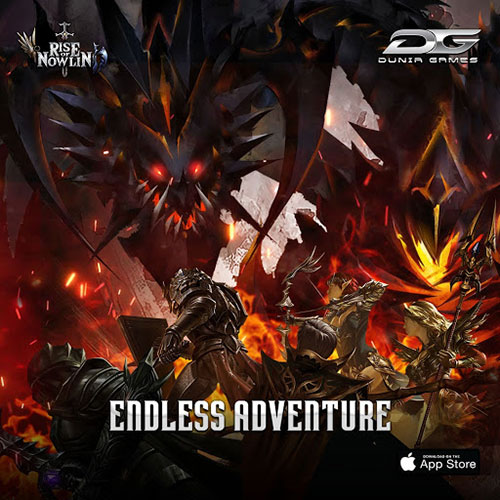 Intinya sih, jumlah kegiatan di Rise of Nowlin itu ga ada batasnya! Dan, kamu juga tidak bosan dengan ulang-ulang saja kayak di game-game lain. Tinggal fokus ke aktivitas yang kamu banget gitu.
2.

Sarat Rivalitas
Sudah pasti ini yang paling dicari oleh semua hardcore gamer dalam suatu game, yakni sisi kompetitifnya. Biasa kita sebutnya PvP, Rise of Nowlin mengusung peperangan tanpa henti dari dua faksi yang selalu bertikai yakni Light dan Dark Legion.
Paling ditakutkan buat para gamer itu adalah bila fitur PvP dalam game tersebut bergantung dari seberapa tebal dompet milik pemain. Itu yang membuat muncul istilah Pay-to-win, bukannya Free-to-play, sehingga memupuskan banyak harapan gamer untuk membuktikan diri bahwa skill merekalah yang terbaik!
Di Rise of Nowlin, seorang 'sultan' sekalipun tidak menjamin kejayaannya dalam game. Alasan pertama adalah karena game ini lebih mengusung kekompakan tim, anggota guild, dan kesolidan satu faksi. Kekuatan individu hanya membuat kamu sebagai pengganggu musuh level kecil yang lagi questing, tanpa kebanggaan. Alasan lainnya yakni ada banyak cara bagi pemain untuk menjadi lebih kuat tanpa harus TOP UP, misalnya kamu bisa rajin mengerjakan quest dan mendapat fame untuk peroleh item Artifact unik, ataupun perdalam Life Skills milikmu agar bisa membuat sendiri senjata serta equip terkuat.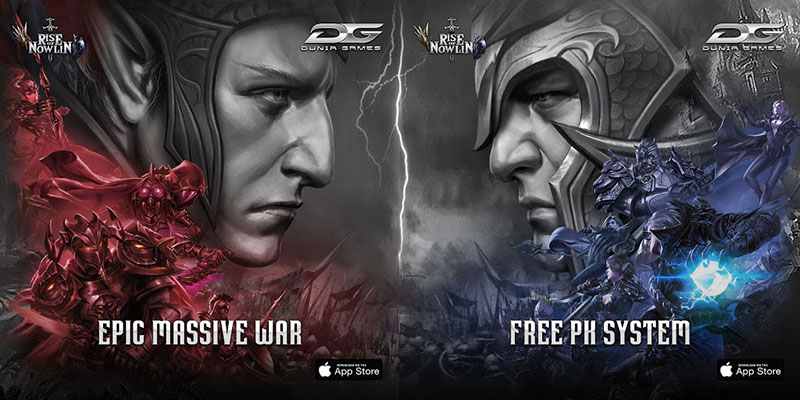 Selain itu, Dunia Games juga merencanakan banyak event-event secara rutin yang memberikan banyak hadiah menarik dengan cuma-cuma, alias gratis. Rivalitas yang terbangun juga tidak hanya antar individu, atau pastinya membela faksi masing-masing, karena faktanya pemain Indonesia seakan sengaja berada di satu faksi (yaitu, Dark!) untuk membendung pasukan Light yang didominasi oleh pemain asal Filipina. Nah, masa iya kamu sesama gamer Indonesia mau tinggal diam kalau negara kamu dijelek-jelekin dalam game? Dianggap remeh dan tidak becus main game, apa iya?
Nah, kabar baiknya juga, dalam kurun waktu tidak lama setelah peluncurannya, Dunia Games telah menyiapkan konsep esports di tahun 2020 guna mengakomodir hasrat persaingan dan wadah rivalitas antar pemain di Rise of Nowlin. Meski wujud serta formatnya belum terkonfirmasi, tapi bisa dipastikan unsur keseimbangan atau kesetaraan di fitur ini menjadi prioritas utamanya.
Itu sih dua alasan utama kenapa hardcore gamers wajib menjajal Open World Mobile MMORPG Rise of Nowlin dari Dunia Games! Beberapa detail untuk sejumlah fitur khusus lainnya akan kita jabarkan pada artikel-artikel selanjutnya! Untuk info dan update terbaru bisa kamu pantau media sosial resmi dari Rise of Nowlin SEA di Facebook, Instagram, dan Discord. Ditunggu ya guys, seru-seruan bareng kita!
Mainkan Rise of Nowlin dan dapatkan hadiah langsung PULSA Rp.5000 dengan mengirim screenshot Role ID-mu.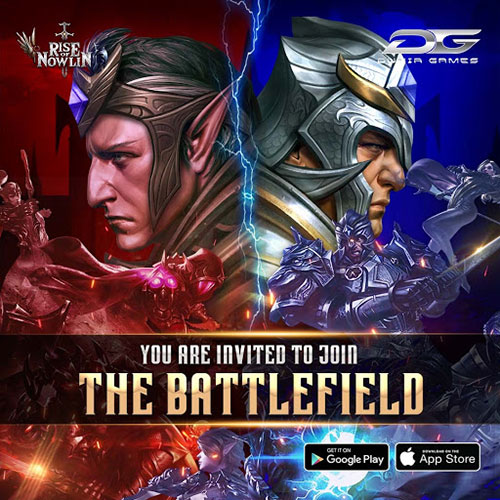 Rise of Nowlin Bahasa: http://bit.ly/IndoRoN
Rise of Nowlin English: http://bit.ly/EngRoN
Direct Install Emulator: http://bit.ly/EmulatorRoN
;