Acer Predator League event is always attracting attention every year. How not, this tournament has a pretty big prize. At the Acer Predator League 2019, the prize pool amounted to 240,000 USD or equivalent to 2.8 Billion Rupiah. The games being contested are Dota 2 and PUBG PC, this seems to be a breath of fresh air for the esports players who have been playing for PC games.
With a greater total prize, the Acer Predator League is ready to return and pamper esports connoisseurs. The contested prize is 400,000 USD or equivalent to 5.6 Billion Rupiah. As for the prize pool local tournament itself, the players will compete for a prize of 200 Million Rupiah. The winners of this local tournament will depart for the Acer Predator League Grand Final in Manila.
The registration is still open until November 20, 2019. While the online allowance has started from November 4, 2019 to December 7, 2019. For you who have participated in the preliminary round and failed, don't worry. You can follow the next wave qualification. Acer Predator League provides an opportunity for players who want to try out the thrill of an esports match. Especially Dota 2 and PUBG.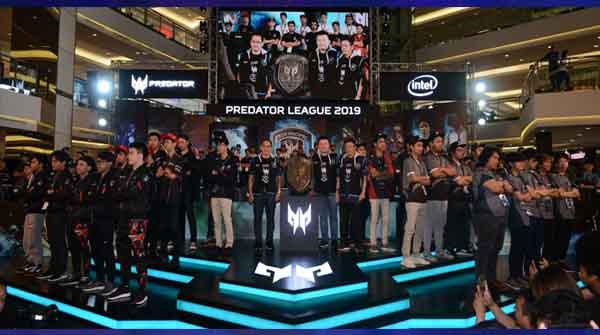 This means that if you have followed the qualifications of the first wave and failed, you can try again in the second or third wave and so on. Acer Predator League qualification is open until the fifth wave.
Source: Acer Predator League Website
Predator League is held by Acer yearly to reinforce the commitment of Predator brand in supporting the gaming industry in the world and in Asia Pacific region in particular.
As a gamer you need to be ruthless and obsessed with winning, like a Predator ready to attack its prey.
Predator is the brand with the most complete gaming devices line ranging from laptop, desktop, monitor, tablet & projector and Predator series offers the latest technology in gaming, made especially to enhance the gaming experience of any hardcore gamer.
In 2019, Asia Pacific witnessed the crowning of a new e-sport champion as 16 regions competed in DOTA2 & PUBG to be the best of them all. From the highs to the lows, APAC Predator League 2019 delivered all the excitement of high-level gaming with DOTA2 team TNC Predator from Philippines and PUBG team Afreeca Freecs from South Korea in the final to become champions of Predator League.
;