Tooing: Jumping Game, this is an unlimited jumping game that aims for the highest score. The game mechanic is simple, the player needs to provide a correct base (diffrentiate by colors) for the character to jump by one tap of a button. The base only appears for a while and the character needs time to land on it. If succeed, a character will gain more speed every 10 jumps. Timing is everything.
Hyper Casual Game is a simple game that people can play anytime they want without the need to keep them focus on their mobile phone for a lot of minutes.
Generally, this kind of game is made in purpose for killing time, having fun and annoyed the player if they die (so they wanted to try again).
As simple as it is, now hyper-casual game is one of most popular genre trends in mobile game industry and it's potential in monetizing can't be overlooked.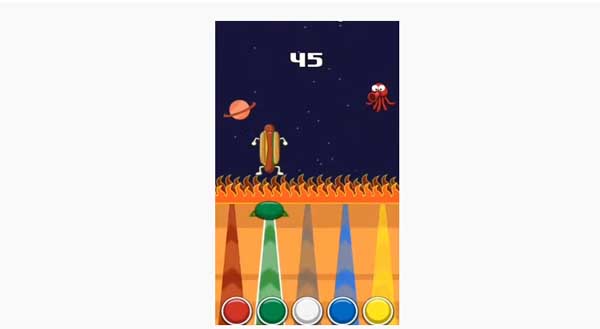 In-Game Feature
Leaderboards
In-game currency for skins
In-app purchase for premium version (no ads)
Monetization strategy are base on $3 premium version of the game and ads.
Usually have a single mechanic, short game loops, a minimalistic UI, and a simple yet beautiful design
Provide satisfaction by making it easy to earn high scores
Are lightweight, taking up very little space on a phone
Don't always require a tutorial
Start right away, typically within seconds
Are designed to be played in short sessions but require an intense level of focus during those sessions
Offer few or no in-app purchases
;