Dungeon Hunter 5 is a hack and slash type MMORPG game developed Gameloft who can also be said as one of the pillars of Mobile gaming. Dungeon Hunter is a long-running game, dungeon hunter 5 offers a great variety of loot and gears. The looks phenomenal and plays without any hitch even in some low-end devices. Dungeon Hunter 5 offers a fast-paced combat full with diverse attacks and abilities to use.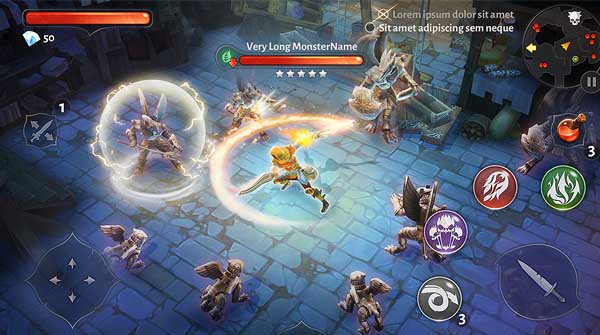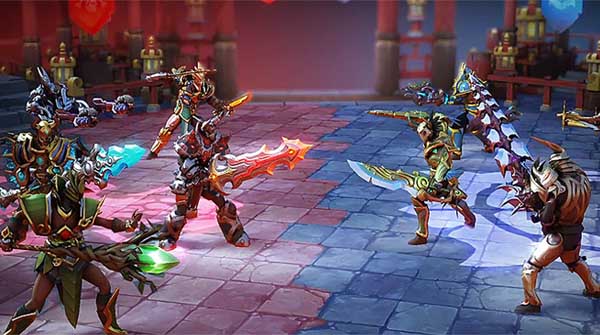 UNMATCHED GRAPHICS
> Amazing animations for your heroes, attacks and slain foes make the entire experience more satisfying.
> Detailed visuals with stunning AAA graphics that bring your MMO adventure to life.
> Explore gorgeous environments, unlike any dungeon game you've seen, from the shattered realm of Valenthia to the cold and barbarous Valen Outpost.
LEGENDARY POWERS
> Wield over 900 pieces of armor and weaponry. Your heroes will need all the customization they can find in this massive RPG adventure game.
> Unleash hundreds of devastating spells and skills in battle.
> Master the Elements by strategically equipping the best weapons, armor and magic.
> Evolve and Master gear to compete in PvP and PvE features like the Arena.
FIGHT WITH FRIENDS
> Rally up to 3 other player heroes to fight side by side in Co-Op multiplayer mode.
> Hire friends as Allies to help you become a great slayer of evil along your journey of vengeance, where you'll discover arcane legends.
> Join a Guild and clash against other players in competitive battles.
BUILD, DEFEND & RAID
> Build and upgrade a Stronghold in this MMO-style bastion-defense mode.
> Tactically deploy over 230 Minions to 60 Trap Rooms to stop any hunters that dare attack.
> Craft powerful defenders by collecting Minion Shards in Co-Op mode.
> Defy other heroes to try and break into your bastion of traps in this asynchronous MMORPG challenge!
ALWAYS MORE TO EXPLORE
> Daily Dungeons not only provide a fresh dungeon quest for heroes, but allow you to collect rare materials to craft powerful equipment and boosts.
> Weekly Events and Legendary Hunts give you the chance to prove yourself a worthy Bounty Hunter as you fight the dungeon boss and unlock exclusive gear in the game.
>Seasonal Challenges add completely unexpected twists to your adventure, but offer unique rewards for success.
>Climb the leaderboards as you take down challenges, so everyone will recognize your warrior's legacy! You'll earn mighty rewards along the way as well.
Embark on a Single-Player Campaign through 5 Realms and countless dungeons
While seeking vengeance against those who have forsaken you, embark on an immersive journey as our spirit-imbued hero through the five shattered realms, and become known as the most notorious Bounty Hunter of them all.
- Cooperative Gameplay
Hire your friends or other players as Allies to help you on your journey of vengeance and bounty hunting.
Asynchronous Multiplayer
Customize your Stronghold with a large variety of creatures, manage and defend it, and raid opponents' Strongholds to ravage their loot.
Daily and Weekly Events
Daily dungeons will reward your demon-killing skills with unique materials to evolve and fuse your gear, while weekly Wanted Challenges will require you to get on top of the leaderboard to get the best rewards.
;