Marvel Contest of Champions, is a fighting mobile MMO created by Kabam brings the heroes franchise of Marvel. Gameplay is similar to that of Injustice: Gods Among Us and Mortal Kombat X, where the game's fighting arena is rendered in 3D with a 2D plane for the superheroes' movements and actions. New players begin with access to two characters, and can work to access additional characters including Iron Man, Spider-Man, Wolverine, Hulk, Magneto, Ultron, Loki, and Rhino. Each character is upgradable, featuring their own classes, movements, traits, abilities, and special moves.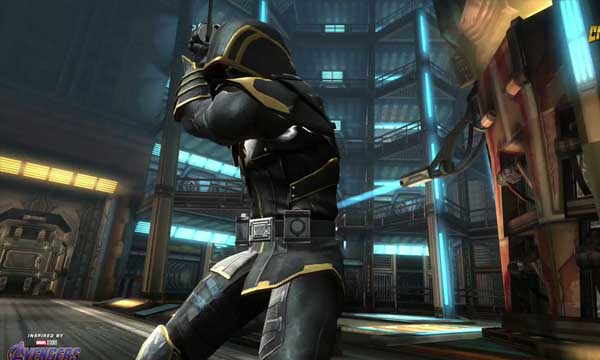 On the latest update, the game brings former S.H.I.E.L.D. agent Clint Barton to the battleground, as Ronin!
Ronin is a darker Clint, a lawless assassin who brings criminals to justice around the world in violent, permanent ways. Ronin is a damage dealer who specializes in Bleeds/Critical Hits. He has three unique Stances to let him switch combat abilities, and each Stance provides improved Blocking, Offensive Utility, or bonus Bleed Damage. Ronin gains bonus Critical Damage when moving through each of the Stances and will be able to strategically evade enemy attacks when he is at his deadliest.
Base Stats & Abilities
* All stats based on 4-Star, Rank 5, Level 50, Signature Level 99
HEALTH: 15204 ATTACK: 1182
MAX PI:
WITHOUT SIGNATURE: 3842
WITH SIGNATURE (99): 4687
*All stats based on 5-Star, Rank 5, Level 65, Signature Level 200
HEALTH: 30484 ATTACK: 2369
MAX PI: 10470
WITHOUT SIGNATURE: 7735
WITH SIGNATURE (200): 10390
Character Class: Skill
Basic Abilities: Bleed, Cruelty, Precision, Disorient
RONIN'S STRENGTHS:
On-Demand Evasion
Ronin has the ability to predictably Evade his opponents' attacks. When Ronin builds enough Cruelty Passives moving through his Stances, he can spend them to avoid attacks altogether. In the hands of a skilled player, Ronin has the potential to never receive a single hit in a fight.
Utility
Switching between Stances is the key to getting the most damage out of Ronin. Doing so requires players to actively be dashing in and out of combat and picking the right moments to engage. As a result, Ronin has more opportunities to Intercept incoming attacks than most champions.
RONIN'S WEAKNESSES:
Playstyle
Ronin is dependent on quickly moving and switching up Stances in the middle of battle. Learning when to weave in a Stance switch and when to attack is key to making the most of Ronin's abilities. Ronin is a challenging character that tests a player's reflexes and decision making in the heat of the fight.
Purify and Immunities
A large portion of Ronin's damage output comes from Bleeds thus Champions that shrug off Debuffs and are Immune to Bleed will drastically limit Ronin's damage.
;