Hi Twigsters,
Do you like epic battle games with realistic war? Here Mordha, an upcoming multiplayer medieval hack 'n slash game, developed by Slovenian independent studio Triternion, with a prominent aspect of skill-based competitive play and customization. It features a combat system emphasizing Hand-to-hand combat, loosely based on historical techniques such as feints, redirection, and alternative use of weapons. It will also feature ranged weapons, siege engines and mounted combat.
The game was partially financed through a Kickstarter campaign which raised nearly $300,000.
April 29th isn't that far away and the Mordhau team wants to get everyone pumped with the release of a brand new trailer for the 64-player first-person melee action game.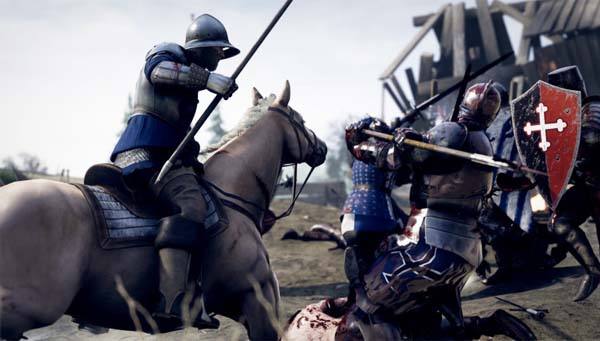 Features
Massive battles: From small-scale engagements to 64-player all-out war in modes such as Frontline and Battle Royale.
Cooperative & offline play: Fight waves of enemies alongside your friends in the cooperative Horde mode, or practice your skills offline against AI.
Free-form melee and ranged combat: Gain complete control over your character and attacks and develop your unique style.
SKILL-BASED MELEE COMBAT
Chain your attacks into combos, punish your opponents with quick counters, push them away with kicks, trick them with feints, grip your polearm closer to the head, use real half-swording techniques -- and much, much more.
ENDLESS CUSTOMIZATION
Smith your sword out of individual pieces: pick from blades, crossguards and grips. Want a mace instead? No problem, pick your head and handle and choose the wood type. There are thousands of possible combinations.
Sculpt your face, create your weapon from parts, and pick out individual pieces of armor to create the perfect warrior.
Huge arsenal of weapons & equipment: Take on enemies with a greatsword, rain arrows from above, or even sit back and build fortifications.
Fight anywhere: Experience cavalry charges, fight on ladders and operate siege engines such as the catapult and ballista.
Visceral and gory combat: Feel the impact of every blow, and send limbs flying as you wreak havoc upon your foes. (Blood & gore are optional).
Believable fights: A game where fights look believable, MORDHAU strikes a balance between gameplay and realism.
;